In HRC, we manage our air and water emissions to minimise our impact on the environment. Guided by our HSSE Policy, we are committed to protect the environment by using resources and energy efficiently. As a responsible corporate citizen, we do monitor the quality of air and water surrounding our refinery diligently.
Environmental, Health and Social (EHS) Impact Assessment
We integrate environmental and social factors into the way we plan, design and take investment decisions for new projects, per our HSSE policies.
Before we initiate new major projects, we systematically conduct an EHS Impact Assessment to ensure we reduce any potential negative impacts on the environment and surrounding communities by:
Safeguarding the health and safety of employees and surrounding communities
Reducing disruptions to the communities
Lowering harmful air emissions
Reducing impact on biodiversity
Using less energy, water and other resources
Managing wastes responsibly
Managing Waste Responsibly
HRC strives to reduce or eliminate the discharge of waste materials that negatively impact the environment. The main sources of solid wastes are Spent Oil-Water Emulsion, Effluent Treatment Plant (ETP) Sludge and spent catalysts from our Long Residue Catalytic Cracker Unit (LRCCU). We use government-approved and licensed contractors to treat and safely dispose all hazardous wastes. In our efforts to minimise the need for disposal services, we consistently look for ways to reduce, recycle or recover generated waste. An example would be the re-use of spent catalysts as raw feedstock for cement production.
In 2017, HRC generated 6,521 tonnes of hazardous waste. Of this, around half of the waste was recycled and recovered, while the remaining waste was disposed at approved facilities. Total waste generated increased by 15.6% compared to 2016 due to higher production volume and completion of a series of maintenance activities during 2017 Pit Stop. However, it is below the average 6,562 tonnes of waste generated over the past five years. When considering the waste generated per million barrels, we have observed a substantial improvement in waste generation rate compared to 2012. Waste generated has decreased by 28.1% since 2012, from 194.6 tonnes per million barrels in 2012 to 164.3 tonnes per million barrels in 2017.
Our recycling rate decreased from 83.3% in 2016 to 52.1% in 2017. This drop in recycling performance was caused by the service provider's contract termination in 2016, due to the provider's internal issues. As an interim measure and to ensure that we remain in compliance with legal requirements, the waste volume was re-channelled to another licensed service provider for disposal. The matter has now been resolved with the set-up of a new contract between HRC and a cement company, which is approved by Department of Environment to reuse our spent catalyst during the 4th quarter of 2017.
A site visit has been conducted at the cement company to ensure procedures are in place so that the hazardous component from our spent catalyst is fully combusted in their process kiln which is operated at very high temperatures. Our spent catalyst is used by the cement company as replacement for one of their raw material which also helps to reduce the utilisation of natural resources. They also have a scrubber in place to ensure that any release of hazardous gas from the process is treated before release to the atmosphere.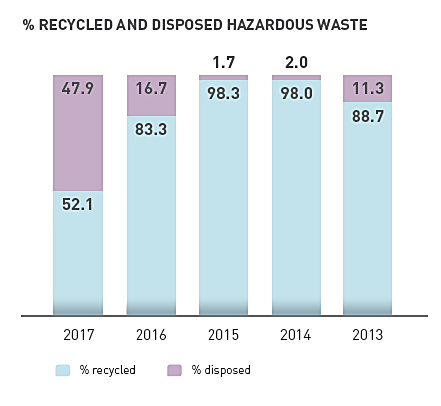 ISO 14001 – Environmental Management System
In 2018, HRC was recertified successfully for Environmental Management System (ISO 14001) with zero Non-Conformance (NC) findings. Preparation to obtain independent verification audit for Green House Gases Emission is currently in process and will be conducted in 2019.