Quality, Health, Safety, Security & Environment
Health, safety, security and environment are critical to our business and operations. To this effect, we endeavor to live up to the highest standards for each of these elements with our people (employees and contractors) and the surrounding communities at all times.
Over the years we have developed a strong Quality, Health, Safety, Security and Environment (QHSSE) culture, which is deeply embedded in our working environment. We instill a strong safety mindset that reinforces the culture expectation that everyone is individually responsible for adhering to proper procedures and that, collectively, we are all responsible for each other and for ensuring we go home safely every day.
Our management at all levels engages regularly with employees to reinforce a safe work culture. Safety toolbox talks are held before any specific job begins at a worksite, during which the focus is on potential hazards and safe work practices that help to avert identified risks.
HRC's QHSSE is governed by our Health, Safety, Security, Environment and Social Performance (HSSE & SP) Policy and our Quality Policy.
Guided by our HRC Sustainability governance framework, our Board of Directors has oversight over the management of HSSE risks as identified by the CEO and the management team together with our employees.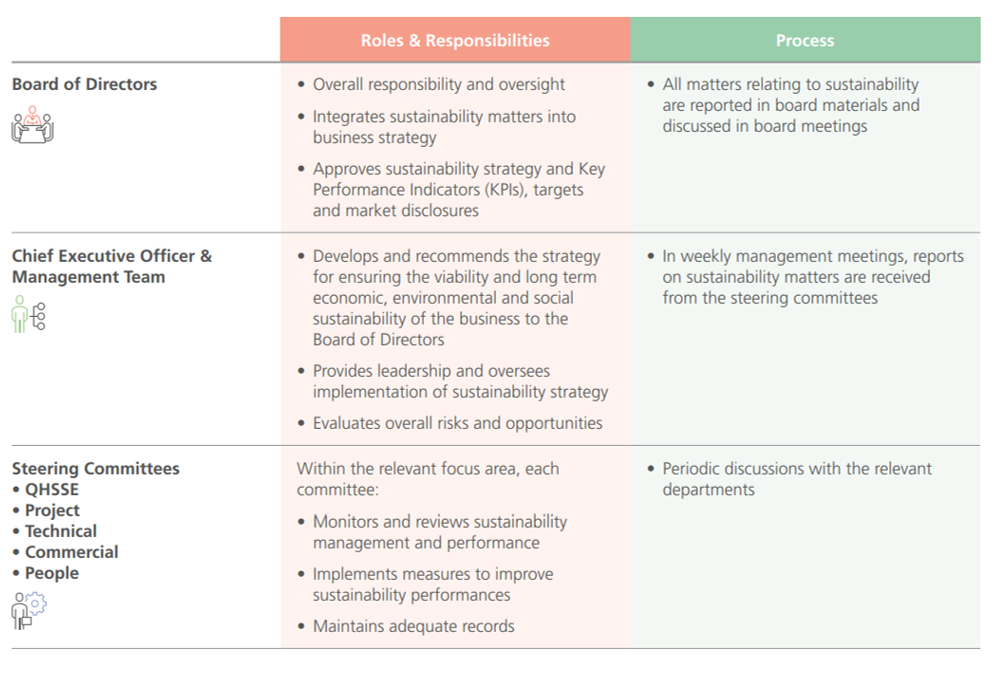 Extracted from HRC FY2018 Sustainability Report
Assurance & Certification
We continue to maintain high standards of assurance through a 3-tier Line of Defence (LOD) structure, consisting of self-audit via self-monitoring and tracking drills and exercises, internal audits and independent external audits.
As part of the QHSSE policies, we conduct Environmental, Health and Social (EHS) Impact assessments on our ongoing activities and any major new projects to minimise negative impacts to:
the health and safety of employees and surrounding communities
air quality
biodiversity
the use of energy, water and other resources
waste management
As part of our QHSSE management framework, the external certification of our systems is important. And end 2018 we have obtained and maintained the following certifications:
ISO 9001: 2015 Quality Management System
ISO 45001: 2018 Occupational Health and Safety Management Systems HRC successfully upgraded its Organisational Healthy and Safety Assurance Standard (OHSAS) 18001: 2007 to ISO 45001: 2018 (Operational, Health & Safety Management System) in 2018, and is the first refinery in Malaysia to achieve this certification
ISO 14001: 2015 Environmental Management System
ISO 17025: Accreditation for Testing and Calibration Laboratory
ISO 27001 Information Security Management Systems (SPACE) HRC was recertified successfully for both its Occupational Health & Safety Management System (OHSAS 18001) and Environmental Management System (ISO 14001) with zero Non-Conformance (NC) findings