Quality, Health, Safety, Security & Environment
Health, safety, security and environment are critical to our business and operations. To this effect, we endeavor to live up to the highest standards for each of these elements with our people (employees and contractors) and the surrounding communities at all times.
Over the years we have developed a strong Quality, Health, Safety, Security and Environment (QHSSE) culture, which is deeply embedded in our working environment. We instill a strong safety mindset that reinforces the culture expectation that everyone is individually responsible for adhering to proper procedures and that, collectively, we are all responsible for each other and for ensuring we go home safely every day.
Our management at all levels engages regularly with employees to reinforce a safe work culture. Safety toolbox talks are held before any specific job begins at a worksite, during which the focus is on potential hazards and safe work practices that help to avert identified risks.
HRC's QHSSE is governed by our Health, Safety, Security, Environment and Social Performance (HSSE & SP) Policy and our Quality Policy.
In HRC, the Board is responsible for HRC's overall sustainability matters, it is supported by Management and Steering Committees to address the relevant material issues. The diagram below provides an overview of HRC's sustainability governance structure and the assigned roles and responsibilities.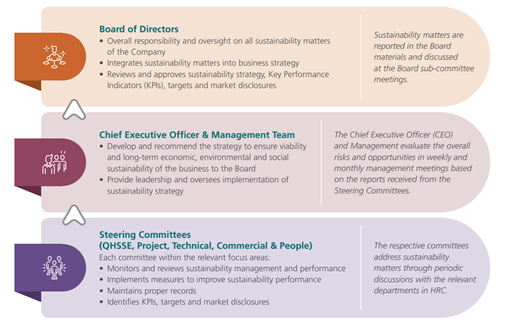 Extracted from HRC FY2020 Sustainability Report
Certification
In year 2020, HRC have successfully obtained and maintained the following certifications:
ISO 9001: 2015 Quality Management Systems
ISO 45001: 2018 Occupational Health and Safety Management Systems
ISO 14001: 2015 Environmental Management Systems
ISO 17025: 2017 Testing and Calibration Laboratories
ISO 27001: 2013 Information Security Management Systems
ISO 37001: 2016 Anti-Bribery Management Systems