Quality, Health, Safety, Security & Environment
Health, safety, security and environment are critical to our business and operations. To this effect, we endeavor to live up to the highest standards for each of these elements with our people (employees and contractors) and the surrounding communities at all times.
Over the years we have developed a strong Quality, Health, Safety, Security and Environment (QHSSE) culture, which is deeply embedded in our working environment. We instill a strong safety mindset that reinforces the culture expectation that everyone is individually responsible for adhering to proper procedures and that, collectively, we are all responsible for each other and for ensuring we go home safely every day.
Our management at all levels engages regularly with employees to reinforce a safe work culture. Safety toolbox talks are held before any specific job begins at a worksite, during which the focus is on potential hazards and safe work practices that help to avert identified risks.
HRC's QHSSE is governed by our Health, Safety, Security, Environment and Social Performance (HSSE & SP) Policy and our Quality Policy.
Guided by our HRC Sustainability governance framework, our Board of Directors has oversight over the management of HSSE risks as identified by the CEO and the management team together with our employees.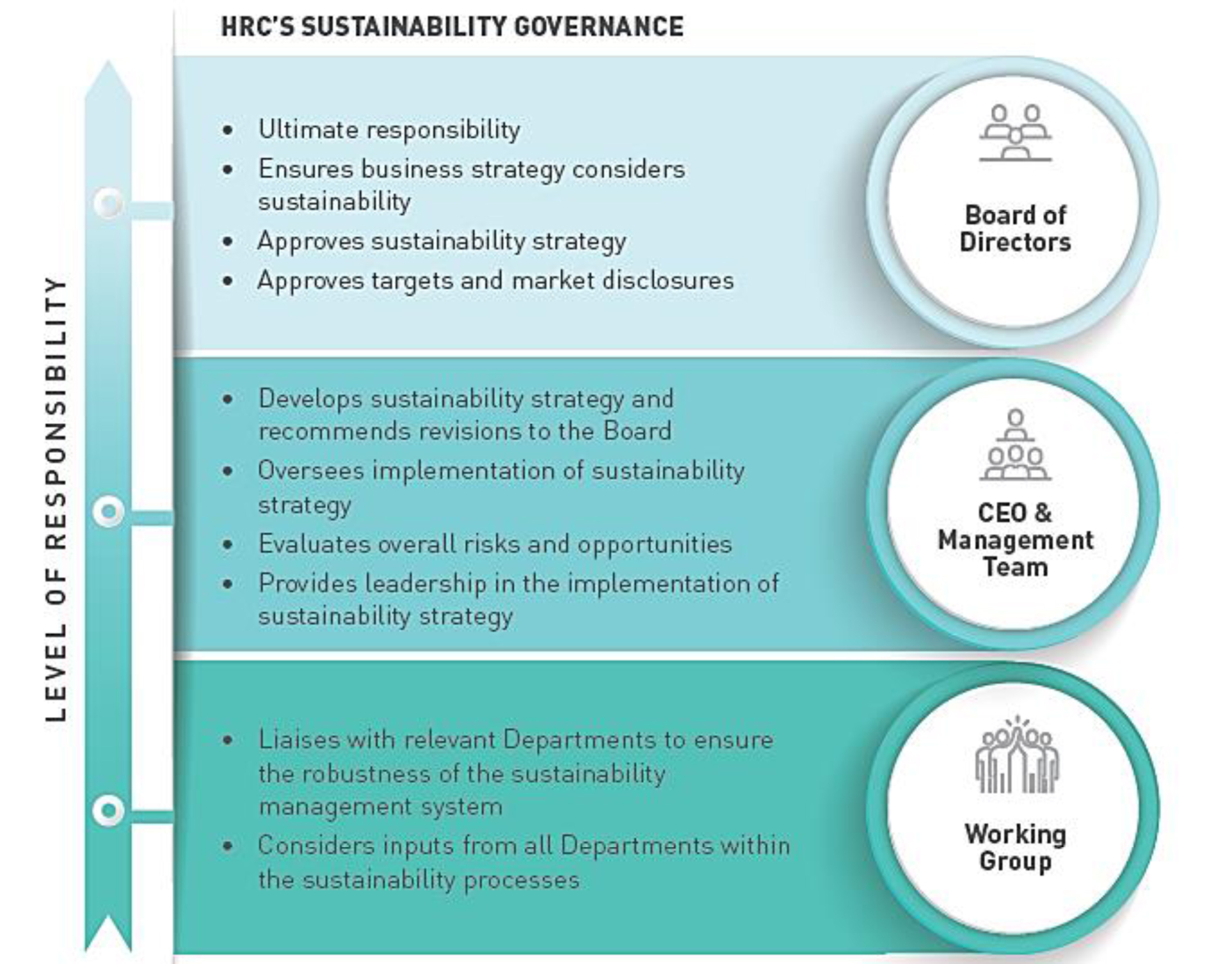 Extracted from HRC FY2017 Sustainability Report
Assurance & Certification
HRC maintains high standards of assurance through a 3-tier Line of Defense (LOD) structure, consisting of self-audit via self-monitoring and tracking, internal audits and independent external audits.
As part of our QHSSE management framework, the external certification of our systems is important. And end 2018 we have obtained and maintained the following certifications:
Quality Management System ISO 9001: 2015
Occupational Safety and Health Management System OHSAS 18001: 2007
Environment Management System ISO 14001: 2015
ISO 17025 certification for the competence of testing and calibration laboratories.
Information Security Management System ISO 27001: 2005
HRC was recertified successfully for both its Occupational Health & Safety Management System (OHSAS 18001) and Environmental Management System (ISO 14001) with zero Non-Conformance (NC) findings.
The external audit of our HSSE Management System (HSSE-MS) reflected the positive strides we have made over the last five (5) years. The 2017 audit report has showed significant improvement with a reduced number of findings, recommendations and criticality as compared to the previous HSSE-MS audit in 2012.
In 2018, HRC was successfully certified and adopted Occupational Health & Safety ISO 45001:2018 (which replaces OHSAS 18001:2007) just a few months after the new ISO 45001 system was launched.
In 2018, HRC also successfully gained certification for the Information Security Management System ISO 27001: 2005.
HSSE Training
Safety training is an essential component of our operations and supports our aim to deliver continuous HSSE excellence. Personnel undergo regular, scenario based, exercises and drills to familiarize themselves with precise defined roles, responsibilities, resources and specific actions involved in dealing with HSSE incidents.
For example, training programmes such as 'Permit to Work' Module 1 & 2 and 'Heavy Lifting & Rigging' for supervisors and riggers are important to ensure employees are clear on their responsibilities while performing these hazardous activities on site. Other specific training such as 'First Aid Training' and 'Confined Space Entry' competency training courses, which give qualifications to the 'Authorised Entry and Standby Person' (AESP), 'Authorised Gas Tester and Entry Supervisor' (AGTES), are conducted in compliance with all legal requirements.
Only participants who have attended the relevant training and have successfully obtained the competency certification are allowed to work in the associated roles.
In 2017 we conducted 79 safety and emergency response training courses, representing a total of 587 hours and involving a total of 979 participants, which included our staff and contractors.
HSSE Performance
We have achieved a zero-fatality track record over the past 25 years and reached five million work-hours without a Lost Time Injury (LTI) on 8 October 2018.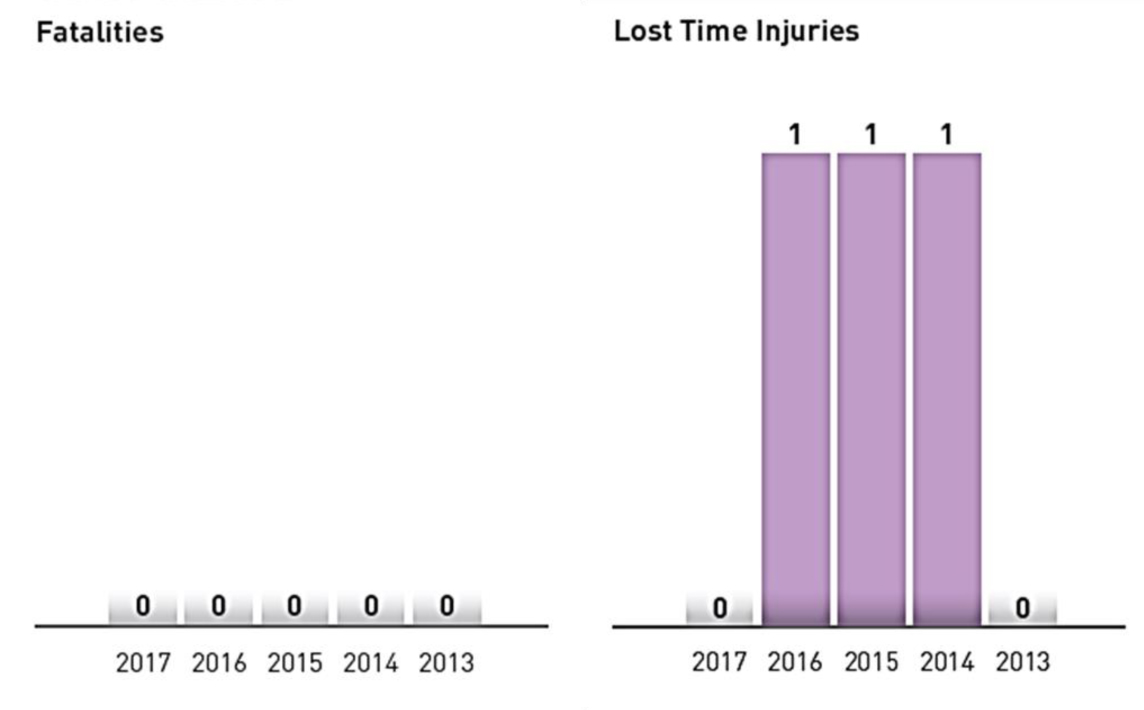 In 2017 our Total Recordable Case Frequency (TRCF) records registered 1 Restricted Work Case (RWC) and 1 Medical Treatment Case (MTC).
First-Aid cases increased from one to five in 2017 from 2016. These cases highlight a need to continue our safety initiatives for our employees and contractors, and in response, launched several campaigns such as "Take 5 for SAFETY" to increase one's situational awareness on surrounding hazards and "High 5! Love Your Hand" initiative to strengthen our hand injury prevention.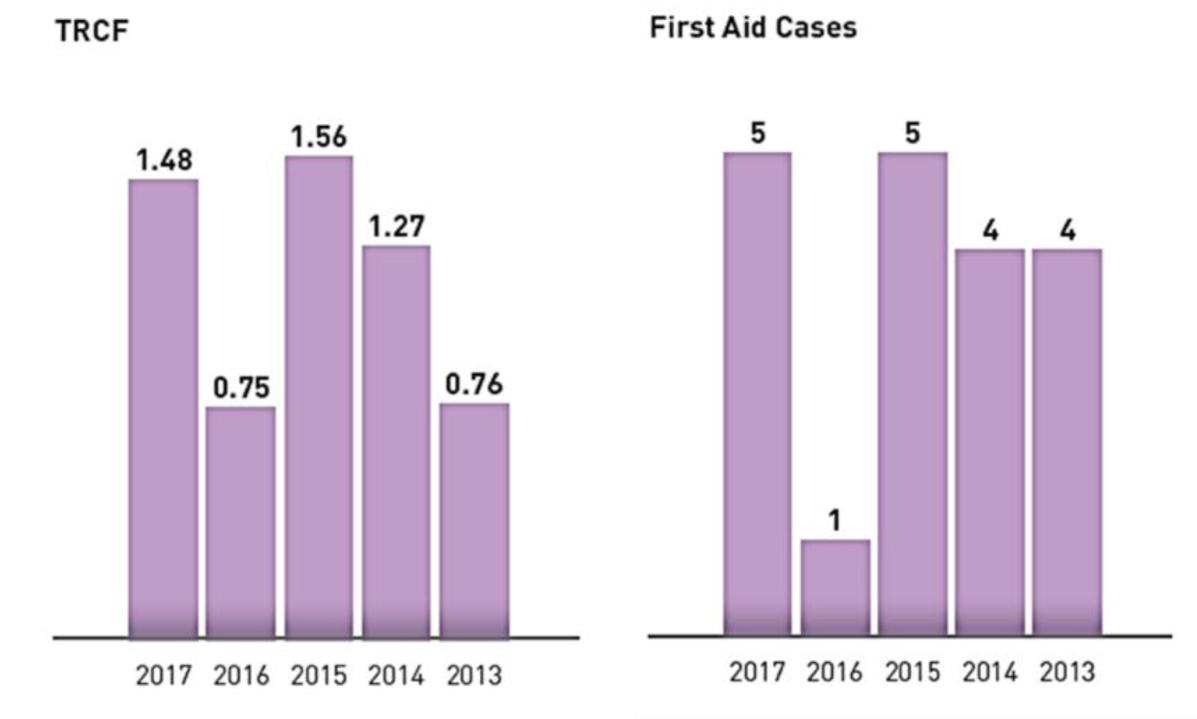 All HSSE incidents, near-misses and other unplanned events are reported and details logged. The ones which are judged to yield vital key learnings for the entire site are analyzed through a Causal Learning investigation protocol to uncover the root causes. The recommendations are then translated into action items with the corresponding accountable parties.
On a monthly basis, the "Learning from Incident" (LFI) working team, which consists of multi-disciplinary representatives, jointly reviews all HSSE incidents from internal and external resources. Relevant learnings/ actions are then translated into a learning/ action pack and shared with all staff and contractors internally.
The LFI sessions decreased by approximately 50% compared to 2016, indicating that we had a lower number of significant incidents that required investigation and learning.