As we continuously focus on improving shareholder value by manufacturing and supplying oil products and services that satisfy the needs of our customers, we ensure that our refinery conducts its operations and business in a safe, environmentally sustainable and economically optimum manner.
How we extend value through our operations
HRC's environmental care and responsibility extends to ensure we use our resources such as hydrocarbons and water as efficiently as possible, and that we manage all waste in a mindful manner towards maintaining the natural environment.
Our operations require water, which is used to generate steam as well as for cooling and cleaning purposes. Cognisant that the resource is vital, we ensure our refinery's complex raw water consumption runs at an optimised level – thereby ensuring the water intake is no more than what is critically necessary to operate the refinery.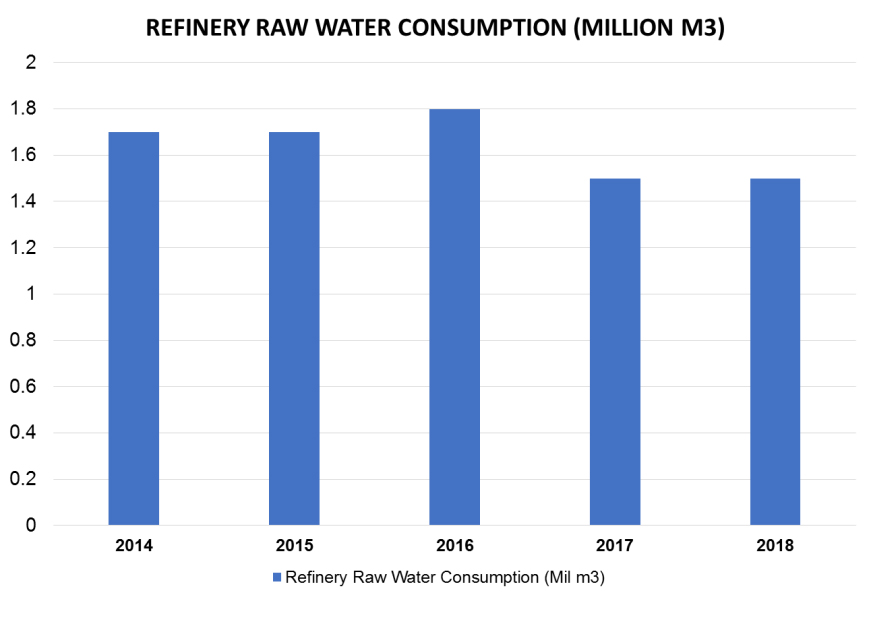 Our plant recovers condensate from steam which is recycled into boiler feed water, The percentage recovered varies depending on the process, crude and other factors. Also, the treated effluent water, which is channeled to our holding basin, is use as water for firefighting.
HRC's treated effluent water (water that is no longer usable in the process) and sea water quality at the jetty are diligently monitored and reported to the Department of Environment (DOE) on a monthly basis. This enables us to proactively detect and take necessary corrective action on any parameter exceeding the acceptable boundaries so that the final release stays within legal limits, ensuring compliance with DOE Standard B limits as stipulated in the Environmental Quality (Industrial Effluent Regulations) 2009.
In the case of a water supply disruption
HRC has established its own procedures to manage for a water-stressed situation, which it defines in the context of its operating environment as a water supply disruption. When there is an unplanned water supply disruption, the refinery triggers its Business Continuity Plan (BCP).
The BCP looks to ensure our business continues to run when the refinery experience interruptions and insufficient protection of critical business processes or resources from the impacts of water supply failures externally or internally due to uncontrollable incidents such as natural catastrophes, IT-system failures, sabotage, explosions etc.
Internal alignment operational discussions are held by the BCP team comprising representatives from various technical streams to evaluate the operational status and assess alternative resource arrangements to ensure the operation processes continue to run in the meantime, to minimise disruption risk to the product supply chain ensuing from the situation.
HRC ensures that BCP is always up-to-date and stays relevant with the latest working environment by identifying current situations, review and close gaps, identify business and technical focal, and conduct BCP workshops with relevant team members to develop BCP scenarios on an annual basis. All BCP scenarios will then be tested periodically and reviewed to ensure effectiveness.